Director/ Founder/Teacher
When we follow the flow in our flow in life we find ourselves exactly where we're supposed to be, doing exactly what we're supposed to be doing, sharing it with exactly who we're supposed to be sharing it with. Sue has followed her flow. Working as a district nurse in her local community for many years while raising her children and helping run the family farm near Rushworth in country Victoria, Sue felt inspired to work in a way that would enhance people's wellbeing rather than working with people once they were already unwell. A love of yoga and an inability to access classes easily in her rural area, led Sue to undertake a yoga teaching course. "Initially I thought that the training would further develop and sustain my own practice at home without really considering being a teacher." With Sue's passion for yoga it's no surprise that she created Mud Hut Yoga Studio and began teaching in 2010. Always welcoming you with a smile, Sue's passion for yoga is contagious.
"Yoga is an essential part of my life and being able to share it with others is a great privilege and joy."
I am eternally grateful to the inspiring yoga teachers I have studied with and continue to study with including:Vitality Yoga Teaching Staff (300 hours Yoga Teaching Training plus Gentle YT training) Nikki Knoff Master Teacher (300 hours Level 1, Level 2-Chair, Level 3, Level 5 & 6 (Yoga Therapy);Graduate Certificate of Yoga Therapy - Enlightened Events 690 hours;Simon Borg-Oliver- Yoga Fundamentals;Lorraine Rushton, Zenergy Yoga - Teaching Kids Yoga
Teacher
Cat began practising yoga, here at Mud Hut Yoga, in 2010. Her personal experience has been profound. The mental and physical benefits gained through practice continue to amaze her. She commenced her teacher training in 2015 at Yoga Jivana, a highly respected Iyengar Yoga Teaching Institute, in Northcote, Victoria. Cat completed her training in 2017 and continues to pursue her goal of gaining the international certification, whereby she can use the official title of Iyengar Yoga Teacher.
She thrives on the challenges and rewards of teaching yoga, taking particular pleasure in finding practical solutions for individuals with varied needs. Iyengar Yoga (a specific branch of Hatha yoga) encourages the use of props and equipment when appropriate. Cat uses this approach to explore the mechanics of asana and finds it invaluable for students with physical restrictions.
Cat is passionate about yoga and the positive impact it can have in our lives. She brings a light energy and an ever present smile to the studio.
Teacher
Marie believes learning and growth are fundamental to a well-lived life, and that meditation, yoga and mindfulness enable both.
Marie trained in chair yoga in 2018, has studied Knoff yoga since 2015, and believes in continually setting herself new personal challenges. She started 2019 with 100 days of yoga for the new year, ensuring this daily practice included holding poses for longer than she thought she could – 90-100 breaths was tough! Over the 100 days Marie was amazed to discover how much her insight into the interconnected nature of the universe grew in tandem with her self-confidence and increased physical strength.
As she works through a Mindfulness-Based Stress Relaxation course – and towards a certificate in MBSR teacher training – Marie also finds time for her own regular meditation practice and seven and nine day silent retreats. Eventually Marie hopes to study MBSR in America. In the meantime, it's a long and winding road with detours and road blocks, but every step involves learning and growing to overcome the obstacles.
Marie's most recent adventure is Ayurveda teacher training, looking at the influence of food on mind, body and health, and finding yoga sequences to suit our body types.Learning and growing are two key values in Marie's life. She believes meditation, yoga and mindfulness enable learning and growing.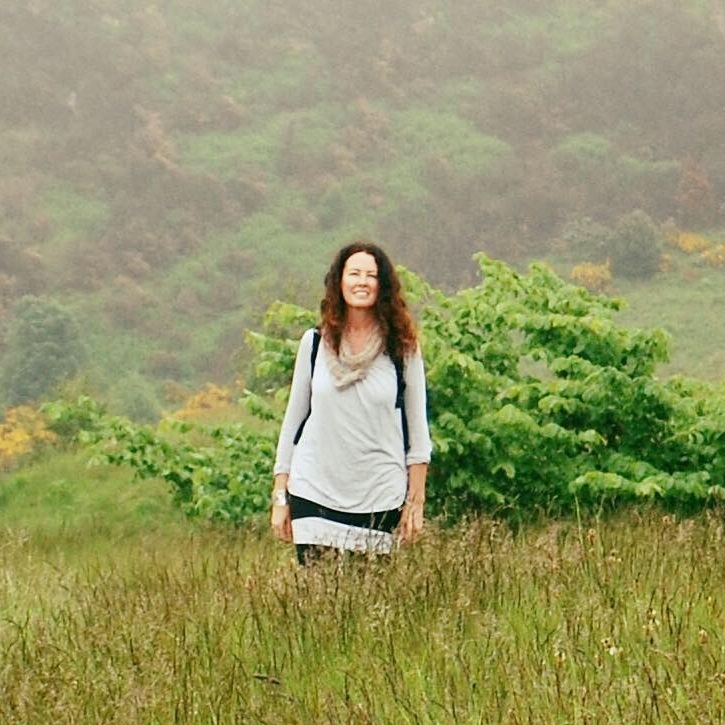 Teacher
Eloise has completed Yoga Teacher training with Nicky Knoff (Knoff Yoga) and is a Yoga Teacher with Mud Hut Yoga.
Eloise combines Knoff Yoga teaching with her knowledge of experiential therapies, which are ways of working with stored muscle memory in the body to support people as they move into authentic ways of being through each yoga practice. By focusing on building non-verbal cues and trust during yoga sessions, Eloise helps individuals as they use the space to feel into their experience of each asana (yoga pose).
A background in yoga and an early education that included meditation have provided Eloise with lived experience of the benefits of yoga to health and wellbeing, while travel to India and South East Asia over the past 20 years enabled her to explore and develop an understanding of the cultural origins of yoga and meditation.
Eloise's love of yoga sits complements her passionate interest in community health and wellbeing locally, and dedication to finding new ways to facilitate health options for people in the community.
Teacher
Tim started his yoga odyssey back in 2015, attending weekly classes with Sue and Cat, which he's maintained to this day. As a healthcare practitioner dealing with the public, Tim regularly meets many people of various ages and abilities who could benefit greatly from a personal yoga practice. Since he has discovered the benefits of a regular practice over the past few years, he decided to embark on a new adventure and start yoga teacher training to share these ancient teachings with others.
In 2017 and 2018 Tim had the great privilege of travelling to India with Sue. Seeing the birthplace of yoga and the way it was integrated into daily lives of the billion people living there was absolutely eye opening. This was the realisation that got him seriously thinking about teaching and how it could have such a positive effect on our community.
Starting his first Yoga Teacher Training course in April 2019 with Yoga Hara in Bendigo, Tim has already learnt so much and is adding to the great foundation Sue and Cat have given him. Tim is due to complete the 350-hour teacher training course in May 2020 and is eager to start classes to help him become the best teacher he can be.